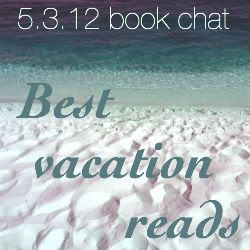 Vacation reads is the theme this week and at first I was like "well...I don't read during vacation" but that's not true at all.
I bring books that I have read before. It helps me to enjoy vacation even more.
Generally, it's my time to rediscover Harry Potter.
Or start a different series over.
But mostly, vacation is for me to spend with people not books.
But new reads manage to sneak their way in :)

Like the first time I read The Giver. I was in Ohio.
Just like the first time I read both The Order Of the Phoenix and The Deathly Hallows. I was in Ohio.
In fact, most of my vacations were 2 month long stints in Ohio with family during the summer. I don't know if I could tell you all the books I read there. I did do most of my growing as a reader during those summers. It's funny that it wasn't during school that my growing in that aspect happened.

I could tell you for sure that on our honeymoon, I picked up The Dome by Stephen King on our way there and finished it within 2 days.

But other then that, I can't really think of a vacation where I brought a book I hadn't read before. I guess vacation is more about discoving new things about different places while maybe discovering something new about an already read book.